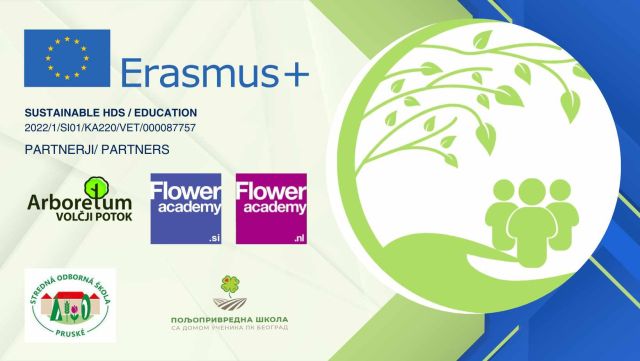 Erasmus+K2
SUSTAINABLE HORTICULTURAL DESIGN OF OUTDOOR EVENT SPACE
By implementing the project, we want to improve quality assurance and adaptation of vocational and professional education to the needs of the labor market and digitization. We will design a new, innovative curriculum, Sustainable horticultural design of outdoor space for events with helpful content in horticulture, agriculture, tourism, and hospitality. With new skills, educational candidates can improve employability, and lecturers will enhance the design of new courses. The contents will be on the freely accessible e-platform in EN, SI, RS, NL, and SK languages.
Activities that support the goals are:
managing the entire management – writing curriculum, manual for teachers, and learning content – creating a freely accessible e-platform
additional LTT 1 training for teachers who write content and activity together with invited teachers and students from different disciplines
a synergy of knowledge at different levels – zoom and physical meetings – content testing/teachers, students, trainees
dissemination of the project: webinars, major physical events, promotional material
They were offering new courses with specific content and obtaining Europass certificates. The project will create an interdisciplinary module with the associated curriculum, teacher recommendations, and learning content. The impact analysis showed a good potential for the sustainability of new content in various system solutions: integration into existing educational subjects within the framework of an independent module in an open curriculum or practical training at the workplace at employers (the entire 5KT Europass module).