7-days Holland Tour 2024
Holland Tour included the car decoration Flower parade Lisse
Holland Tour: don't miss it!
Did you always want to visit Holland, a country of  Tulips, spring flowers and plants?  Then is now your chance. In this 1-week Holland Tour you get everything:
beautiful Dutch locations
visits bulb fields with millions of flowers
visits to famous Dutch flower and plant companies
visit the historical botanical garden
visit Keukenhof, world most famous garden with bulbs
the flower business with auction and nurseries
practical work to decorate a car for the flower parade
use many seasonal bulb flowers
famous Dutch pancakes and "stroopwafels"
visit Leiden and Amsterdam
buy products for your flower shops for cheap prices
Vist Floriworld, a super flower experience centre.

Certificate ceremony + lunch
Attention exclusive
Buying materials / plants in The Netherlands for your flower shops for cheap prices

We can organise transport back to Slovenia (this way you will reimburse some costs)

Funding of teachers and students of floristics under ERASMUS+ funds.

Floweracademy.SI and Floveracademy.NL are both in the ERASMUS+ system.
Floweracademy.NL + Floweracademy.SI
This 1-week Holland Tour is organised in a cooperation of Floweracademy.NL with Floweracademy.SI
Lucas Jansen and Sabina Segula are both master florists and have decades of experience in teaching. They know everything about flower arranging, marketing, care & handling and all kind of trends and products.
Certificate "Commercial Florist"
Possibility to continue the EU Florist scheme only with Floweracademy.SI and Floweracademy.NL providers (5 seminars – 1st level exam / 10 seminars – 2nd level exam)
For whom?
Anyone who wants to have an unforgettable experience in Holland and like to learn about the flower business and like to work with flowers and plants. The focus group is florists from all different countries.
Program 2024
14 April: departure Slovenia by bus

15 April: arrival Holland
15 – 21 April: visit companies (auction, nurseries etc)
18 April: decorate the flower parade car with bulb flowers and plants
19 – 20 April: visit nurseries, Amsterdam, Leiden

time for shopping and visit historical garden Hortus Botanicus

21 April: a visit to Green Trade Centre in Aalsmeer to buy flowers, plants and materials

afternoon departure back to Slovenia
A detailed schedule will be send after your subscription.
What you can expect?
Transport by bus from Slovenia to Holland.
Decorate a car with bulb flowers and plants which will participate in the
"Bloemencorso Bollenstreek": https://bollenstreek.nl/bloemencorso-flower-parade-bollenstreek/?lang=en
Accommodation (2 – 3 people in 1 room) (If you prefer single room there will be additional costs)
Whole week Guidance from Sabina and Lucas
Languages: English, Slovenian, Croatian
Visit the most typical Dutch places and cities
Excursions to nurseries, auction, Keukenhof and flower parade
Including free subscription product encyclopedia InfoFlowersPlants
Certificate of participation
Subscription can be done online. After 50% payment in advance your subscription is definitieve.
Including free subscription InfoFlowersPlants
Online product encyclopedy InfoFlowersPlants
As a participant, you will also have access to the online product encyclopedia assortment of InfoFlowersPlants. This web application is the replacement of the assortment books of Flower council Holland. Independent, consistent and up-to-date product information in 9 languages with numerous search functions.
An amazing week in Holland, country of Tulips and wind mills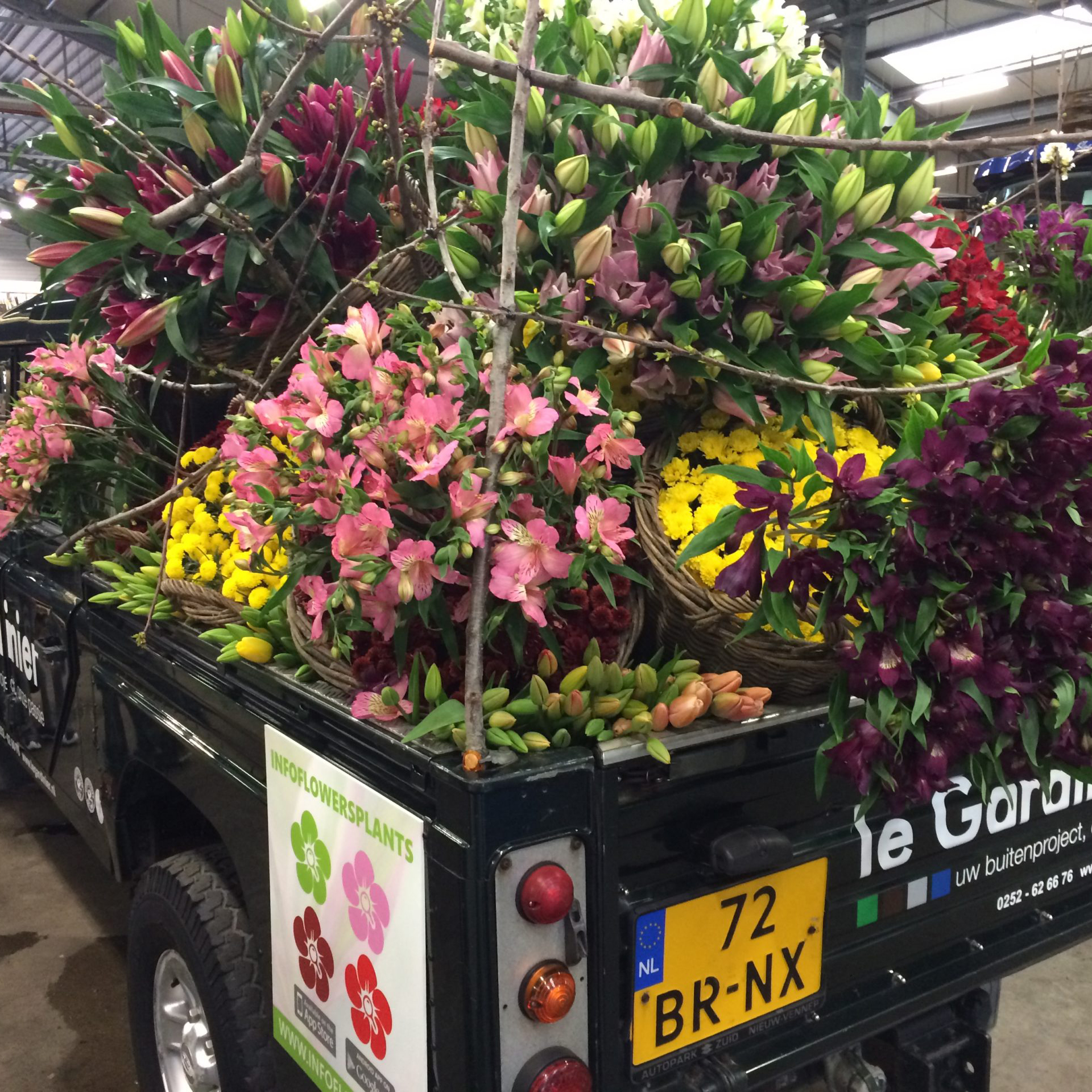 Included decorate a car "Flowerparade Lisse"
Sabina Segula en Lucas Jansen are 2 famous teachers in flower arranging and marketing. Both are master designer and have decades of experience in many different countries all around the world.